Obi-Wan Finale - The Loop
Play Sound
Overview[1]

[

]
Andreas M. Antonopoulos is a technologist and serial entrepreneur who has become one of the most well-known and well-respected figures in Bitcoin. He is the author of two books: "Mastering Bitcoin", published by O'Reilly Media and considered the best technical guide to Bitcoin and "The Internet of Money", a book about why bitcoin matters.
As an engaging public speaker, teacher and writer,  Andreas makes complex subjects accessible and easy to understand. As an advisor, he helps startups recognize, evaluate, and navigate security and business risks. Andreas was also one of the first to use the phrase "The Internet of Money", as early as 2013, to describe bitcoin as part of his speaking business.
As a bitcoin entrepreneur, Andreas has founded a number of bitcoin businesses and launched several community open-source projects. He is a widely published author of articles and blog posts on bitcoin, is a permanent host on the popular Let's Talk Bitcoin Podcast, and a frequent speaker at technology and security conferences worldwide.
Andreas offers strategic consulting to a small number of crypto-currency companies that are aligned with his interests. He also offers expert witness testimony as an expert in the security, technical details and use of crypto-currencies, worldwide.
Videos
[
]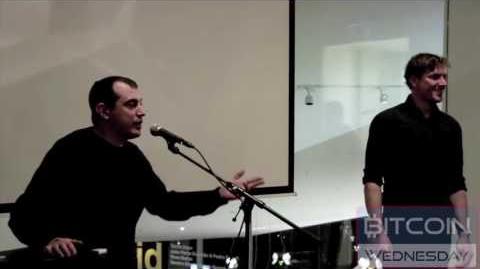 This is part of a talk which took place on October 19th 2016 at the Bitcoin Wednesday Meetup in Amsterdam, Netherlands. It is a good introduction to Bitcoin.
The ICO craze, the tokenization of crowdfunding, and the globalisation of access to venture capital - as well as the scams, panic, and lawsuits coming in the first wave.
This is part of a talk which took place at the Advanced Digital Innovation Summit (ADIS) on September 12th 2017 in Vancouver, Canada.
In this talk, Andreas makes a connection between medical pseudoscience and modern financial totalitarian surveillance, as practiced by banks and state intelligence agencies. He explores the hidden externalities and moral hazards inherent in KYC/AML policies, disconnecting whole countries and even continents from the world economy. Why is it common sense that money laundering is the fundamental business of fully-licensed, regulated banks? Who runs the real "dark net"? He urges that before people try to fix things they should first be sure they're not making it worse.
References
[
]
<references>