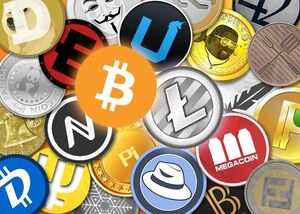 Welcome to the Cryptocurrency Wiki. This wiki attempts to collect general information about cryptocurrencies and the broader digital asset industry.
About
Cryptocurrencies are digital currencies settled on a distributed ledger, typically in the form of a blockchain. The goal of this wiki is to collate and preserve information on cryptocurrencies, which might otherwise be inscrutible or lost to the tides of rapid innovation.
This wiki is moderated by a small community of volunteers. Anyone can contribute; therefore, nothing written here should be taken at face value. This wiki does not constitute financial advice, and it is imperative that the reader Do Your Own Research before making any investment decisions. The cryptocurrency space is highly prone to scams of all types with little regard to the victim's wealth or experience level.
Contributing
Anyone can edit this wiki. Contributors are encouraged to review the Cryptocurrency Wiki:Policy.
We are always looking for new contributors to get involved. Active users with good contributions may be invited to join the admin team.
News
Check the News to learn what is going on in the world of cryptocurrencies.
Guides
Learn more from external resources in Category:Extracurricular.
Glossary
The Glossary lists basic definitions of common cryptocurrency terms.
Noob?